026 How to Play Michael Jordan One-on-One with Ken Eller
06 November 2013
Last Updated on 06 November 2013
Podcast: Play in new window | Download | Embed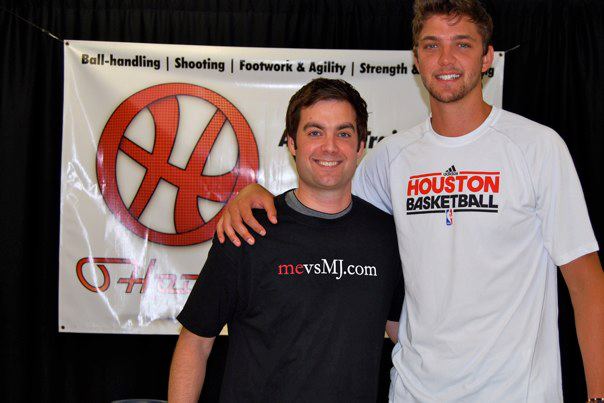 Our guest for Red Backpack Show episode 26 is Ken Eller.
From his website
mevsmj.com:
Being a HUGE Jordan fan, I thought why not see if I can get a game of 1-on-1 with the greatest basketball player to ever live.
So that's how I came up with Me vs. MJ.
One game.  Me vs. Michael Jeffrey Jordan.
Simple right?
The last time I remember playing good basketball was over 12 years ago.  Good basketball of course, on the regular guy scale.  I never played any level of pro ball, or college, or even more than one year of high school basketball (sophomore).  On any court USA I was a pretty good player back in those days.  Nothing more.
This is what I am today.
Six feet, two inches (almost), 175 pounds and nowhere close at this time to where I want to be physically for this challenge.  I'm 33 years of age and call Central Florida my home.   I spend my days working for a large financial institution.  My nights relaxing with my lovely wife, of just over two years.  I play basketball a couple of times a year.
That's me.
That wasn't always me though.  As I said, I am a HUGE Jordan fan.  Growing up sports was my life.  Countless hours were spent playing and studying the game of basketball and the man, Michael Jordan.
So can you picture me?
A 6 foot almost 2 inch caucasian fellow, who once could play a decent game of roundball, and was introduced to the game of basketball by a guy from N.C. who went on to be the greatest basketball player that ever lived.
A youngster who poured his heart into the game he loved, his only teacher in those days, a man who was growing to Worldwide hoops fame.
I wanted to "Be Like Mike" and growing up, Nike and Gatorade helped me believe I could be.
Fast forward through life to where I am today.
This is a dream, no doubt about it.  Though, why not dream?  There are only two outcomes that are possible for this endeavor.  As Michael once said, to paraphrase, you can't make a shot you don't take.
So this is my shot.  Maybe one of you will help the ball go in the hoop.  I thank you in advance.
In this episode you will learn how to:
How the key to pursuing your goal is simply to start.
How people are the key to achieving a goal.
Where you can go with faith and hard work.
Links that were mentioned on the show:
Ken's Website
Connect with Ken on Facebook